Edis Dervišagić: Gradačac je potentno privredno područje i ugodno mjesto za život
Općina Gradačac nedavno je dobila je status grada, a ovu izmjenu gradonačelnik Edis Dervišagić za Klix.ba ocjenjuje od velikog značaja. Osim na ovu statusnu promjenu on se u našem razgovoru osvrnuo i na ekonomske prilike Gradačca, domaće i strane investicije, smanjenje nezaposlenosti, prilike za mlade, ali i značajne infrastrukturne projekte.
Federacija BiH nedavno je dobila sedam novih gradova, među kojima je i Gradačac, a ovo je uslijedilo nakon što je Dom naroda Federalnog parlamenta po skraćenom postupku razmatrao i usvojio prijedloge zakona o gradovima.
Prvi čovjek Gradačca Edis Dervišagić u razgovoru za Klix.ba kaže da je riječ o statusnoj izmjeni koja ne podrazumijeva promjene u smislu povećanja prihoda koji pripadaju općini, odnosno gradu Gradačcu, niti će izazvati bilo kakvu promjenu što se tiče rashoda te će plaće zaposlenih u administraciji ostati na ranijem nivou.
S druge strane, on navodi da je ovo pozitivan pomak, jer Gradačcu nudi kvalitetniji nastup u međunarodnim okvirima.
"Ova promjena statusa veoma nam je važna jer omogućava da igramo značajniju ulogu u našem predstavljanju među ostalim gradovima i općinama na području BiH, a posebno u nekim našim prekograničnim projektima. Prošle godine smo bili u prilici aktivno se uključiti u poziv prekogranične saradnje u okviru IPA II fonda i vidjeli smo koliko je važno imati partnere gradove, odnosno naselja koja po svom budžetu, broju stanovnika, razvoju infrastrukture i kulturno-historijskom naslijeđu su podjednako razvijeni kao općina Gradačac", kaže Dervišagić za Klix.ba.
Status koji je Gradačac zaslužio
Prilikom razmatranja i usvajanja prijedloga zakona o gradovima u Domu naroda Parlamenta FBiH stvorile su se određene polemike u vezi sa (ne)opravdanosti preimenovanja nekih općina u gradove, međutim, Dervišagić smatra da ovaj status Gradačac itekako zavređuje.
"Gradačac je i u prošlosti imao status posebnog područja. Znamo da je u doba Osmanskog ejaleta bio središte kapetanije, tako da je i sa historijsko-kulturološke dimenzije promjena statusa potpuno opravdana i očekivana. S druge strane, on je ovo statusno priznanje zaslužio i zbog razvoja privrede koja ga prati unazad nekoliko godina. Mislim da će nam ovo dati i podstrek da Gradačac u narednom periodu doživi ekspanziju na svakom polju", ističe Dervišagić.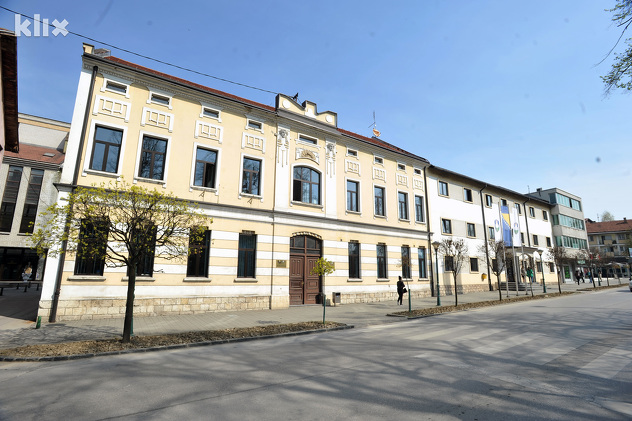 Foto: D. Z./Klix.ba
Kada je riječ o problemu nezaposlenosti, Gradačac ne predstavlja izolovano ostrvo u Bosni i Hercegovini.
"Mnogo je problema kada je riječ o određenim zakonskim regulativama, administrativnim preprekama u osnivanju biznisa ili prenamjeni zemljišta. To su problemi sa kojima se susreću sve općine i gradovi u BiH, pa tako i mi", nadovezuje se naš sagovornik.
Gradačac je područje u kojem je još od ranije poljoprivredna proizvodnja izrazito razvijena, a tome svjedoči i procenat poticaja koji se povuku na godišnjem nivou u ovoj općini.
"Ovdje je izuzetno zastupljeno voćarstvo i prisutne su ogromne količine proizvedene šljive, kruške, jabuke i drugog voća, koji se plasiraju na razna tržišta. U posljednje vrijeme Gradačac je postao i središte metaloprerađivačke industrije u kojoj su se razvile firme koje po proizvodnji i izvozu dostižu kvalitetan nivo", naglašava naš sagovornik.
Izvoz veći od 350 miliona KM
Prema posljednjim podacima Porezne uprave FBiH u Gradačcu je zaposleno 9.100 građana, što je u poređenju sa 2012. godinom povećanje za okvirno tri hiljade. S druge strane, broj nezaposlenih se smanjio za njih 1.500 te je danas u potrazi za poslom 6.300 osoba.
"Po broju zaposlenih Gradačac danas premašuje nivo koji je imao prije 1992. godine. Također, sa ovog područja firme na godišnjem nivou izvezu više od 350 miliona KM različitih proizvoda, što je značajno povećanje u odnosu na prethodne godine. Ovo su parametri koji potvrđuju da je Gradačac potentno privredno područje", dodaje Dervišagić.
Dvije gradačačke industrijske zone nalaze se u centru grada, a u njima trenutno djeluju stabilne firme koje su uglavnom izvozno orijentisane.
U zonama je razvijena i prehrambena industrija, a okvirno 40 posto proizvedenog mlijeka u BiH nastalo je upravo u dvije mljekare koje djeluju u Gradačcu. Također, tu je još i tekstilna industrija u kojoj je zaposleno više od hiljadu radnika, a registrovano je i više od hiljadu gazdinstava.
Dervišagić nam kaže da se u narednom periodu očekuje oživljavanje još nekoliko industrijskih lokaliteta, a do kraja ove godine u postojećim bi trebalo biti zaposleno još okvirno 500 osoba.
"Gradačac je nosilac međunarodnog certifikata općine sa povoljnim poslovnim okruženjem u jugoistočnoj Evropi. Jedina smo općina u TK koja ima ovaj certifikat, a njegovom dobijanju prethodio je prolazak kroz rigorozan sistem kontrole i uspostavljanja određenih standarda u pružanju usluga i određenih olakšica privrednicima. Sada ulazimo u postupak recertifikacije i nastojat ćemo da se pridržavamo određenih standarda koje zahtjeva evropsko tržište", kaže Dervišagić.
Gradačac je primamljiva destinacija i za strane investitore. Neki od njih su ranije otvorili svoje kompanije u ovom dijelu BiH, pa shodno tome zastupljene su firme iz Francuske, Švicarske i Slovenije.
Prvi čovjek Gradačca vjeruje da će povećanju broja zaposlenih mladih osoba doprinijeti i otvaranje trening centra, prvog ovakve vrste u našoj zemlji, koji će pružati kvalitetnu edukaciju, a potom i priliku za zaposlenje.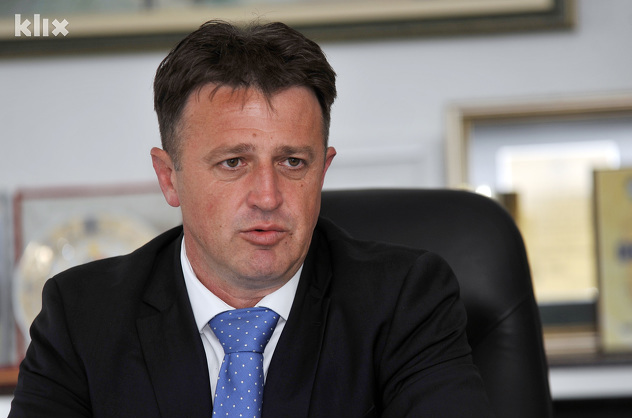 Foto: D. Z./Klix.ba
"Riječ je o pilot projektu kojeg finansiraju Općina Gradačac, UNDP i TIKA. Objekt starog srednjoškolskog centra koji je bio razoren ratnim dejstvima smo preuredili te smo dobili savremene učionice u koje su smještene određene mašine iz proizvodnih hala naših fabrika. U projekt smo uključili privrednike s naše općine, a cilj nam je da problem nedovoljno edukovane radne snage riješimo. Želimo kadrovima koji su neophodni na tržištu pružiti besplatnu kvalitetnu edukaciju u trajanju od tri do šest mjeseci, a nakon toga da ih čeka adekvatno radno mjesto u fabrikama u kojima postoje potrebe", otkriva Dervišagić za Klix.ba.
Višemilionski infrastrukturni projekti
Na području Gradačca trenutno se realiziraju i infrastrukturni projekti. Najveći je vezan za izgradnju vodovodne i kanalizacione mreže sa prečistačem otpadnih voda. Projekat je ovo u koji se ušlo prije tri godine, a ukupna investicija iznosi 12 miliona eura. Od toga je 50 posto kreditnih sredstava koja su realizirana putem Evropske banke za obnovu i razvoj, dok je ostatak pripisan grant sredstvima koja su obezbijeđena iz različitih izvora.
"U ovom trenutku se izvode radovi na izgradnji vodovodne mreže u južnom dijelu općine i to je prvi lot tendera koji je u završnoj fazi. Njime se postavlja cjevovod od izvorišta Domažić u dužini od četiri kilometra i vrijednost radova je okvirno 600.000 eura. Pored toga u toku je izgradnja kanalizacione mreže u sjevernom dijelu općine u dužini od 35 kilometara, a ugovorena vrijednost radova je skoro tri miliona eura", precizirao je Dervišagić te dodao da je u proteklom periodu u rad pušten novi prečistač otpadnih voda vrijednosti skoro tri miliona KM.
Također, predviđena je izgradnja još 55 kilometara vodovodne mreže, a tenderska procedura je okončana te bi se izvođači radova na terenu mogli očekivati početkom maja.
Inače, nakon cjelokupne realizacije projekta problem vodosnabdijevanja će biti riješen u južnom dijelu Gradačca u kojem živi okvirno 20.000 stanovnika. Benefite će osjetiti i privrednici u ovom dijelu koji ovise o kvalitetnom vodsnabdijevanju.
U prošloj godini asfaltiran je 21 putni pravac, a mještani Gradačca su dobili i obnovljeni gradski trg koji je već postao prepoznatljivo mjesto okupljanja.
Sada se treba krenuti i sa daljim radovima na rekonstrukciji gradske šetnice, takozvane aleje javora i aleje kestenova. Nakon okončanja posljednje faze uža gradska jezgra Gradačca će biti u potpunosti rekonstrisana čime će ovaj grad predstavljati još ugodnije mjesto za život.