Jakub Salkić: Ako ću se već boriti, radije biram da se borim u svojoj zemlji, na svojoj očevini, sa svojim narodom, za svoju zemlju
Jakub Salkić je diplomirani novinar, ima 33 godine a uz podršku i pomoć svoje porodice nastavio je dugi porodični posao i posvetio se proizvodnji džemova, marmelada, sokova te dodataka jelima. Prije deset mjesec osnovao je novi brend na tržištu "Zlatna kap".
Kuhanje domaćih džemova i marmelada još uvijek nije nestalo iz tradicije naših krajeva. Ljeto i rana jesen vrijeme je kada se zreli mirisni plodovi pretvaraju u slasne voćne namaze po starim, ali i osuvremenjenim metodama. Tamno bobičasto voće, višnje, maline, marelice, šljive, šipak, neke su od vrsta voća koje se najčešće ukuhavaju u našim kuhinjama. Međutim, postoje i oni koji upravo u proizvodnji ovih proizvoda vide i posao, pa je iz dana u dan sve više onih koji se odlučuju na bavljenje ovim zanimanjem. Jedan od takvih slučajeva je i priča 33-godišnjeg Jakuba Salkića, koji je inače iz mjesta Bratunac u Podrinju. Jakub trenutno živi u Sarajevu, po zanimanju je diplomirani novinar, a po opredjeljenju za budućnost poljoprivrednik, odnosno proivođač prehrambenih proizvoda. Ovaj muž i otac osmomjesečne bebe pokretač je novog brenda na tržištu BiH – "Zlatna kap", a pored proizvodnje sokova, džemova i pekmeza, proizvodi i dodatke jelima, a koji se mogu pronaći i na Facebook stranici Zlatna kap. Tim smo povodom razgovarali s Jakubom.
Bavite se proizvodnjom sokova, džemova i pekmeza. Kada ste se počeli baviti ovim poslom?
Proizvodnjom sokova, džemova, ajvara i dodataka jelima počeo sam se baviti prije 10 mjeseci, tada je nastala Zlatna kap – poljoprivredni obrt u kućnoj radinosti. Obrt je registrovan u općini Visoko, jer tamo proizvodimo naše proizvode.
Radi li se o porodičnom poslu? Kako je sve krenulo?
Riječ je upravo o porodičnom poslu, u koji su uključeni moja porodica i porodica moje supruge, koja je iz Visokog, tako da je zapravo Zlatna kap jedna velika porodica, koja se, evo, hvala Bogu, proširuje i za nove članove. Većinu posla prošle sezone radili smo suprugina sestra Nerma Lepić i ja, pošto je supruga bila na porodiljnom, a osim toga zapsolena je u drugoj firmi, dok je Nerma nezaposlena. Shvatili smo da u Visokom i Bratuncu imamo velike površineneiskorištenog poljoprivrednog zemljišta, mnogo voća. Cilj nam je bio da počnemo iskorištavati taj potencijal koji imamo. Tako smo se odlučili da počnemo prerađivati voće i povrće koje imamo i koje raste na našoj zemlji. Nismo mogli dozvoliti da zemlja zarasta, da propada voće koje su sadili naši očevi, djedovi… Npr. u Bratuncu imamo jabuke koje su stare i više od 80 godina, to su stare bosanske sorte jabuke koju je danas zaista teško pronaći na tržištu. Također imamo šljive takozvane "požegače" koje su još samo u istočnoj Bosni opstale, ta sorta izumire, a naše su stare i po 50 godina. Sada obnavljamo te voćnjake i nastojimo očuvati te sorte od izumiranja.
Od sokova do pinđura
Koje vrste sokova, pekmeza i džemova proizvodite?
U prvoj godini rada, za koju moram reći da je neka vrsta teške faze, proizveli smo sokove u kombinaciji zove, nane i limuna, te kombinaciju nane i limuna. Za te potrebe smo u Bratuncu posadili nanu, a jedan dio koristimo i samoniklu nanu. Pošto je dosta zapuštenog zemljišta kod nas, to je pogodno za rast zove pa smo je imali u izobilju. Pravili smo još sokove od višnje, kupine, aronije, jabuke, borovnice i drijenjka.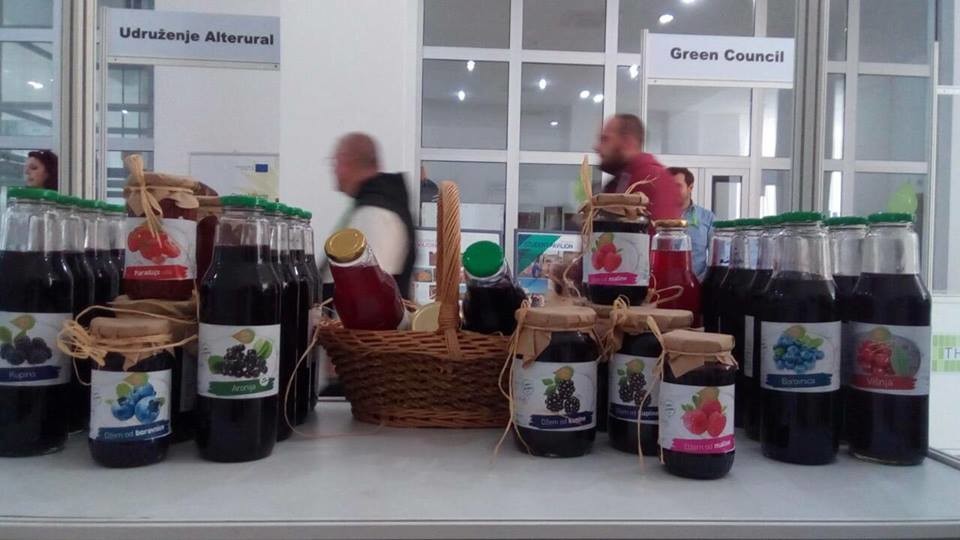 Pošto imamo malinjak u Visokom, pravili smo džemove od maline, ali i kupine i borovnice. S obzirom na to da nam prošle godine nije rodila šljiva u Bratuncu, nismo pravili džemove od šljive jer nismo htjeli to raditi od bilo koje šljive, želimo za to koristiti vlastitu šljivu. Osim toga, pravili smo ajvar, pinđur i jednu vrstu paradajz sosa, što je zapravo dodatak jelima, sa raznim začinima i što se pokazalo kao izuzetno dobar i tražen proizvod. Uskoro ćemo tržištu ponuditi i sok od cvekle, mrkve i jabuke u malim bocama, bez ikakvih vještačkih dodataka, jer želimo da to bude proizvod namijenjen samo za djecu. Poznato je koliko su mrkva i cvekla dobre namirnice i koliko doprinose zdravlju, tako da nam je cilj ponuditi ljudima zdravu alternativu udječijoj ishrani, jer, složićete se, mnogo je preparata za djecu koji su puni konzervanasa i raznih aditiva. Cvekla i mrkva su iz našeg organskog uzgoja i vjerujem da će to biti najkvaliteniji sok te vrste.
Imate li sopstevni proizvodni pogon? Koliko uposlenika imate?
Zapravo nemamo klasični pogon, jer kako rekoh, obrt je u kućnoj radinosti, a pošto je porodični posao, još se nismo prijavili kao uposleni. Naš pogon je skroman, sastavljen od mašina za mljevenje i cijeđenje voća i pasterizatora.
Dođu po jedno, kupe "ceker" proizvoda
Kolika je potražnja za proizvodima?
Još ne možemo govoriti o nekoj stabilnoj potražnji jer smo novi na tržištu i sve što smo do sada radili zapravo je izlazak na tržište, upoznavanje kupaca sa onim što nudimo i praćenje rekacija kupaca. No, proizveli smo oko 5.000 jedinica, i većina toga je prodata, tako da do novog ciklusa proizvodnje rasprodaćemo i ovo što nam je ostalo u zalihama. Ono na što smo ponosni, a to smo primjetili na sajmovima, ako je jedan kupac prvi dan kupio naš proizvod, naredni dan se vrati da kupi "ceker" proizvoda. Dakle, kupci koji probaju naše proizvode, uvijek nam se vraćaju. Smatramo to komplimentom i nekom vrstom podsticaja za budućnost.
Imate li određene kupce kojima nudite svoje proizvode?
Naša prodajna "baza" trenutno je Kakanj, tu smo prisutni u pet marketa, ADS i Tiron, zatim prisutni smo u Fojnici u jednom marketu, te u Sarajevu. U Visokom smo još u potrazi za prtnerom s kojim ćemo sarađivati, kao i u Zenici. Također, u potrazi smo za adekvatnim ugostiteljskim objektima s kojima možemo ostvariti saradnju u smislu plasmana sokova u malim bocama od 0,2 litra. Tu smo u pregovorima sa jednim cijenjenim restoranom u Sarajevu, pa ćemo vidjeti kakav će biti ishod.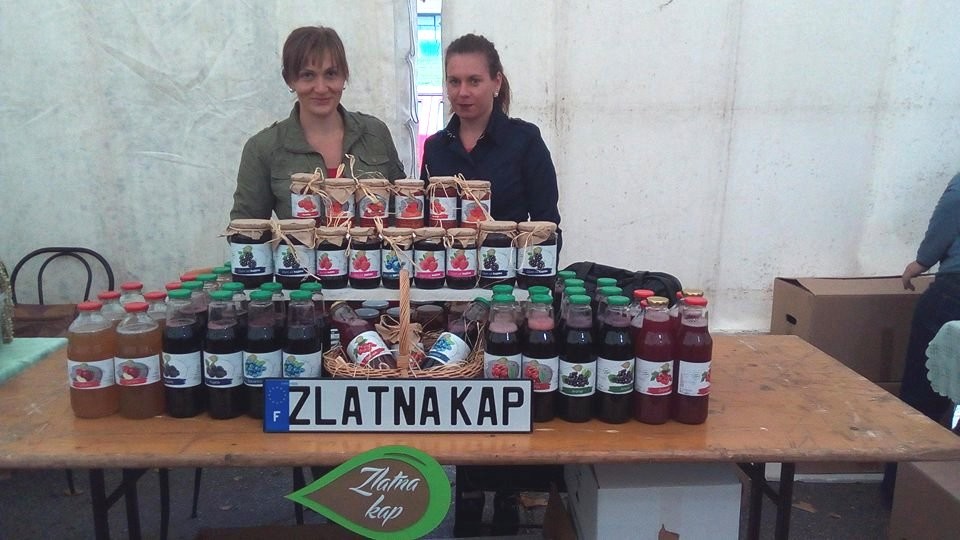 Kakva je prošla godina bila za Vaš posao?
Mislim da bolju godinu nismo mogli poželjeti jer smo odlučili napraviti prvi korak i napravili smo ga, izašli smo na tržište. Istina, malo smo griješili, malo lutali, ali sve smo to morali proći i naučiti da u novu sezonu uđemo spremniji. Nažalost, problem nam je bio taj što nam u Bratuncu nije rodilo voće zbog kasnog snijega i mraza, pa smo ostali uskraćeni za šljivu i domaću jabuku, ali to nije do nas i ne možemo to kontrolisati, tako da nema razloga ni da žalimo za tim.
Odakle nabavljate voće za proizvodnju?
Ono što mi ne proizvodimo kupimo od drugih naših proizvođača, kao što je npr. bio slučaj sa kupinom koju smo nabavili u Željeznom Polju. S druge strane, borovnicu smo brali u planini (kod Vareša), drijenjak u šumi oko Visokog, a aroniju smo kupili u Ilijašu.
Planova je puno, ali i strpljenja
Možete li nam ukratko objasniti kako izgleda jedan proces proizvodnje, recimo, sokova?
Proces je u principu jednostavan, pranje voća, mljevenje, cijeđenje i pasterizacija soka, te sipanje u staklenu ambalažu. Naš cilj je da nudimo čisti voćni sok, ako je to kupina, da bude samo kupina, a ne 50% jabuke, malo vode i malo kupine. Zbog gustoće soka dodajemo malo vode, u nekim slučajevima poput kupine, borovnice i aronije, ali to ne prelazi 10%, a u nekim slučajevima dodajemo i malo šećera, jer npr. drijenjak niko ne želi piti ako nije zaslađen jer je sam po sebi bljutav. Radimo na način da proizvodimo samo u sezoni, jer nemamo hladnjaču u kojoj bismo mogli skladištiti voće tokom cijele godine.
Imate li neke, već određene planove za tekuću godinu, i skoriju budućnost?
Plan koji već realiziramo je nabavka nove opreme, boljih mašina koje su nam potrebne za rad i kompletiranje proizvodne linije. S druge strane, plan nam je podizanje novih zasada voća, između ostalog kupine, ribizle itd. Također, planiramo podići i jedan plastenik za povrće, tako da ćemo se baviti i prodajom povrća iz plasteničkog uzgoja. Prošle godine smo posadili lavandu na dva duluma, pa ćemo, ako budemo mogli to finansirati, nabaviti destilator za eterična ulja.Eterična ulja su dugoročni plan, jer želimo u budućnosti više da se fokusiramo na to i da jednoga dana počnemo praviti parfeme. No, to je još daleko, ali smatramo da treba ići korak po korak, jer mi nemamo mogućnost da odmah uložimo 100.000 maraka ili milion, nego moramo pametno, korak po korak.Možda zvuči nadrealno, ali krenuli smo od nule, sa ulaganjima od nekoliko hiljada maraka, a cilj nam je da izrastemo u respektabilnog proizvođača u dvije kategorije proizvoda prehrambeni i kozmetički, a sve zasnovano na našoj zemlji.
Naveli ste i da proizvodite dodatke jelima. Koje dodatke konkretno proizvodite?
Dodatak jelima koji smo proizveli je zapravo paradajz sos sa kombinacijom začina, koji se koristi kao dodatak  varivima, tjesteninama, za razne sosove u kulinarstvu. Prezadovoljni smo kvalitetom tog proizvoda  reakcijama domaćica koje su ga probale. Ove godine u planu nam je da i taj segment dodataka jelima obogatimo sa novim proizvodim, odnosno novim kombinacijama.
Sve što zarade, ulože u proizvodnju
Može li se od ovog posla solidno živjeti?
Da budem iskren, još nismo na nivou da možemo da živimo od ovoga posla, jer tek smo na početku, sve što zaradimo ulažemo dalje u proizvodnju. No, doći će i to vrijeme da se može živjeti lijepo od tog posla, ali treba imati strpljenja do tada. Bitno je ne posustajati i biti obeshrabren ako ne ide odmah onako kako je čovjek zamislio.
Nailazite li na neke poteškoće ?
Naravno, poteškoća ima, ali upornošću se sve savlada. Ja često za sebe kažem da još nisam ni mala firma, nego mikro proizvođač. Kao takav, nemam iste uslove kao velike firme, firme iza kojih stoji veliki kapital, logistika itd. Npr. kada ste velika firma nemate problem da uđete u neku prodavnicu, dok ja imam, od mene se traži da imam najmanje uslove kao Coca Cola. Tako da ja najčešće nailazim na zatvorena vrata, ali ako pokucam 50 vrata, jedna se barem otvore. Hoću da kažem to, da nema razumijevanja od trgovaca prema malim proizvođačima u smislu da nam pomognu tek toliko da probaju naše proizvode staviti na police.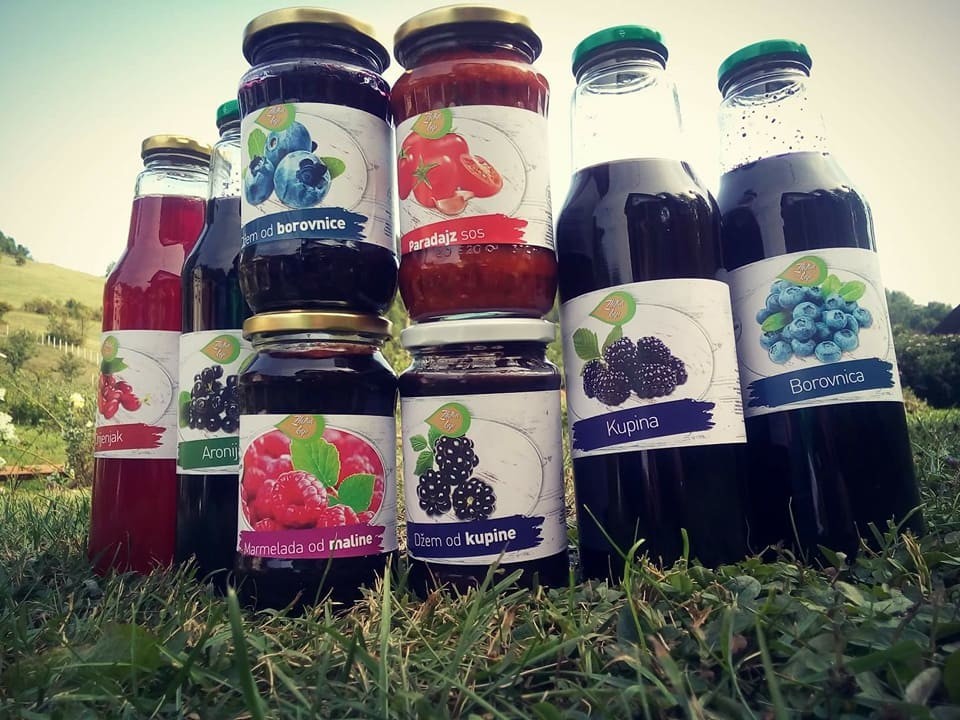 Imao sam jedan slučaj, riječ je o jednom restoranu, ponudio sam svoje proizvode i vlasnik mi kaže ovako: "Šta ja dobijam time što stavim tvoje proizvode u ponudu? Firma xy mi je dala suncobrane, firma xx frižider, šta ćeš mi ti dati?" Rekao sam mu da mi je malo komplikovano proizvesti frižider, ali mu mogu pomoći jedino da ga napuni. Naravno, od saradnje nije bilo ništa. Ali pokazuje kako stvari stoje. Da ne govorim o tome koliko je bilo slučajeva da restorani "ne smiju" uzeti moj sok zato što im je firma xx dala frižider i mogu samo prodavati sokove od te firme. Firme xy i xx su globalni ili regionalni lideri u poslovima kojim se bave.
Rekli ste da proizvodite pekmeze, sokove, džemove… Što je najzahtjevniji proces proizvodnje?
Mislim da ništa nije pretjerano zahtjevno, zapravo, može biti zahtjevno u smislu da se čovjek umori dok to radi, ali kada na kraju dobijete rezultat, to uzbuđenje je neprocijenjivo. Znate, kad svojim rukama posadite biljku, pa je njegujete mjesecima, uberete plod od nje, i svojim rukama od toga napravite nešto, e to je neizrecivo lijep osjećaj.
Prokomentirajte sve češći odlazak mladih iz BiH. Mislite li da je u poljoprivredi budućnost BiH?
Više od pola svoga života sam bio izbjeglica, proveo godine potucajući se tamo-ovamo, ali naučio sam jednu stvar, čovjek jednom mora stati i reći ovdje sam, ovdje ostajem, i ovdje se borim. Logika je jednostavna, ako ću se već boriti, radije biram da se borim u svojoj zemlji, na svojoj očevini, sa svojim narodom, za svoju zemlju, za svoje potomke. Istina, Njemačka bi mi više platila da se za nju borim, ali tamo ću biti samo još jedan stranac, još jedan plaćenik, još jedan paćenik za domovinom. Mi možemo napraviti bolju zemlju za nas i naše potomke, ali ne možemo čekati, moramo ustati i boriti se. Svako na svoj način. Moj način je da iskoristim potencijal obradive zemlje, da proizvodim hranu. Mislim da je to moja budućnost. Toj je moj način da svoju zemlju i svoj mali svijet učinim boljim. Svako nosi u sebi nešto čime može uljepšati svijet, samo to treba ispoljiti, truditi se i raditi, ako ničim drugim, svijet se može uljepšati i osmijehom. Ne volim priče kako nema perspektive za mlade, mislim da je itekako ima, samo je pitanje hoćemo li persepktivu potražiti težim ili lakšim putem, lakši put je onaj preko granice, a teži je stati i boriti se. Moj izbor je teži.
Foto: Facebook/Zlatna kap